Company Profile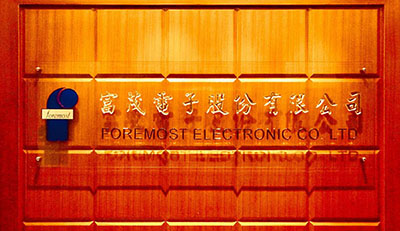 Established in 1973, Foremost Electronic Co., Ltd. is dedicated to the production of earphones and some other related parts & components in the beginning. After years' efforts, we have become one of the leading manufacturers in this field.

With the continuous progress and rapid development in electronic industry, we, following the faith of love hard working and striving upward, have been persisting in our management creeds to keep going and to do the best. To meet the severe competition and to serve the customers more, in the early of 1993, we expanded our plant in Shenzhen in Mainland China, where we assemble our products and export them worldwide. Thus, we have made steady progress so far. The main products of our company are earphones, headphones, microphones and related products. Moreover, these products can, in different forms, prevail in various fields such as the accessories for AV, wireless communications, mobile phones, computers and multi-media.

Foremost pays much attention to the need of our customers. Both in technology, QC, production and marketing, we, as a team working together, encourage our employees to be active, responsible and cooperative in order to do better and aim at the best. We will always offer our customers high quality products, reasonable price, prompt delivery and excellent service, with a view to become the most reliable company to the customers. We look forward to obtaining your consistent support and constructive suggestion, so that we may achieve the goal to be the best supplier we have been pursuing.